Add this page to your FAVORITES LIST !
Netscape users Press "Control and D" to bookmark this page.
Come back and check prices often.
---
---
to
Read the FREE
..."the coming crash"
---
Market Traders
Investments -Stocks Commodity - Books
---
.
BOOKMARK


this page.

Save it as a

FAVORITES

Thanks for visiting!
---
Trader-Investor's BOOK STORE Click Here
Daily SPOT Precious METALS Prices
Bullion metals prices during the past 24 hours *.
Prices updated every few minutes when markets are open. Prices are per ounce.
This page does not refresh automatically. Press the "Refresh" button on your browser for fresh quotes.
Read the following FREE REPORT
Join the CLUB EWI for FREE to get them:
-So Says Bob Prechter, But He Maps Out Survival Plan In New Book
This article was taken from an interview with Bob Prechter, author of "Conquer the Crash: You Can Survive and Prosper in a Deflationary Depression". Conducted by veteran interviewer Kathryn M. Welling, formerly of Barron's.
All of these reports (plus many more) are available FREE, by joining

the FREE information club, Club EWI.

What is the "Spot Price"?

(clarification of what spot is) - one might say that the "spot" price is the price quoted for large bars of precious metal. Each larger metal bar is stored in a certified warehouse. Usually only the receipt of ownership changes hands. Keep in mind that the spot price does not include broker commissions, shipping, postal insurance, etc. When purchasing precious metals in the form of coins or smaller bars expect to pay a premium for the manufacture, some kind of commission or markup, and of course postage/insurance to receive your purchase.

* - spot prices are updated only when markets are open, expect a time delay in prices.

Visit Lynncoins.com to purchase smaller size gold or silver coins and bars.

Longer Term GOLD PRICE Chart: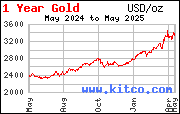 Please
BOOKMARK
this page.
Come back often
Thank You...!
Special Thanks go to Bravenet, Kitco, John Lynn + Company, The Elliott Wave Theorist, LynnCoins.com and others...... for providing this free information.
Netscape users Press "Control and D" to bookmark this page.
Come back and check prices often.
Disclaimer:
All metal prices quoted, information, and opinions you see come from what is expected to be reliable sources. Do the possibility of error, omission, and events beyond our control, no warranty or guarantee is expressed or implied as to the accuracy of any information or quote. Often precious metal purchases need to be held long term to realize substantial gains. Investing in metals, or anything for that matter, involves risks including possible decreases in your investment value at times. Common advice includes: "Don't use your grocery or mortgage money to invest in anything." Please use your good judgment and always verify prices and information before you make any precious metal transaction. Our opinion is, that for most small and individual investors, it is best to take personal possession of precious metals and coins you purchase. This is not a solicitation or advice to buy or sell.
Precious Metal spot quotes brought to you by your friends at www.Lynncoins.com
Have Questions ? Please email us at: jlynn@aeneas.net
Copyright 1999-2007 JLYNN Website owners - Would you like to share links? Please email us.
( c ) 2001 J Ly n n a n d C O . . . . . . . Thanks for visiting http://lynncoins.com/spot1.htm
Bob Prechter's book, Conquer the Crash, provides a wealth of self help do's and don'ts. #1 Best seller."